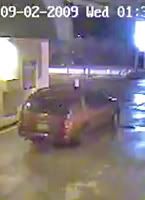 Sgt. Chuck Mulligan reported to Historic City News that detectives with the Sheriff's Office Property Crimes Section are asking for your help in identifying a burglary suspect who was caught on surveillance video.
The burglary occurred to a commercial building located on S. R. 206 in the early morning hours Wednesday; shortly after midnight.
Various commercial tools were stolen from sheds located behind the complex by two men that were driving what appears to be a dark colored compact 4 door SUV — possibly a Chevy Trail blazer, according to Mulligan.
The surveillance video shows the suspect vehicle has silver colored rims — except for the right rear; which may have a temporary "donut style" spare tire.
Further, there appears to be a light colored decal in the center, upper portion of the back window. The decal may be a "Salt Life" styled logo or other elongated sticker.
The suspects appear to be white males and are wearing work styled gloves in the photos.
Anyone with information is asked to contact Deputy Graham Harris with the Property Crime Section at (904) 824-8304 or North East Florida Crime Stoppers at 1-888-277-8477 (TIPS).
Let us know what you think >>