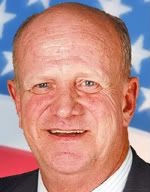 According to his court docket, Historic City News has learned that Thomas G. Manuel, who was suspended by the Governor from his office as St. Johns County Commission Chairman, is scheduled to change his not-guilty plea to bribery charges this morning.
County Commissioner Phil Mays, a resident of Ponte Vedra, was appointed to fill the District 4 commission seat by Governor Charlie Crist on December 23, 2008. Mays' appointment filled a vacancy created when Governor Crist suspended Commissioner Thomas Manuel from office in October.
After several delays, Manuel's case was scheduled for trial next month. Manuel has insisted in his innocence and that he didn't solicit and accept bribes totaling $60,000 to influence county business.
Developer Bruce Robbins of Falcon Development Group, Jacksonville, and his attorney, George McClure of St. Augustine, were named as confidential informants in the case.
The FBI said it recorded 42 of Manuel's conversations with informants over an 18-month period. Taped and video conversations Manuel had with these two men are part of the evidence against him.
Manuel has maintained his innocence since word of the FBI investigation leaked out in June, 2008. Manuel's public explanation to the FBI's public corruption investigation and prosecution of criminal charges against him has been that this was "payback" for taking on powerful people in the county.
According to the docket entry made yesterday morning, Manuel is scheduled to appear before a federal magistrate for a change of plea. Based on that hearing, the magistrate will then make a recommendation to a U.S. district judge, who will schedule a sentencing hearing.
The maximum sentence for two counts of bribery is 20 years in prison and $500,000 in fines.
Let us know what you think >>