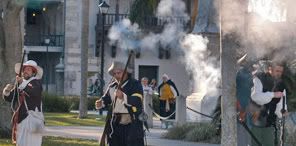 Historic City News has been alerted that the reenactment of a 17th century raid on St. Augustine by Searle's Buccaneers will necessitate intermittent disruptions of traffic in parts of downtown St. Augustine this Saturday, March 7th.
The reenactment begins south of the Plaza at 5:00pm along Aviles Street, continues through the Plaza de la Constitucion and north on St. George Street concluding in the vicinity of the City Gate and Santo Domingo Redoubt at the corner of Orange Street and Cordova Street at 6:00pm.
• St. George Street between Cathedral Place and King Street will be closed to all traffic between 4:00 p.m. and 6:00 p.m.
• Traffic on King Street and Cathedral Place in the vicinity of the Plaza will be halted for brief periods between 5:00 p.m. and 5:30 p.m.
• Orange Street between South Castillo Drive and Cordova Street will be closed between 5:30 p.m. and 6:00 p.m.
Vehicular traffic will want to avoid these areas during these times, if possible.
Share your thoughts with our readers >>