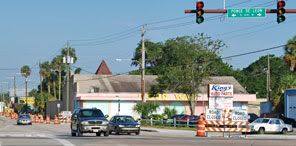 Project Manager Nick Perpich in the St. Johns County Engineering Division reported to Historic City News that the traffic pattern along the West King Street construction is going to be redirected next week.
In coordination with the corridor's business community, the direction of travel on W. King Street is going to change from eastbound to westbound effective Monday, June 29, 2009. Only westbound traffic will be permitted between U.S. 1 and the Palmer Street/Pellicer Lane intersection.
To allow traffic to flow westbound and still accommodate construction, the eastbound lane of W. King Street will be closed between Palmer Street/Pellicer Lane and U.S. 1 beginning June 29 for approximately six months.
The road closure will facilitate Phase 1 of this roadway reconstruction project to rebuild the stormwater drainage system, upgrade water and sewer utilities, improve traffic flow and install a new mast arm traffic signal at the intersection of W. King Street and Palmer Street/Pellicer Lane.
During this work phase, detour signs will direct motorists on the new detour route, which is south on Pellicer Lane to South Dixie Highway, east on State Road 207 and north on U. S. 1 until they return to West King Street.
These infrastructure improvements are a joint project between St. Johns County, the City of St. Augustine and a grant from the Florida Department of Transportation, with work being performed by S.E. Cline Construction. Barring any material, labor or weather delays, the entire project is scheduled to be completed in early 2010.
Photo credit: Historic City News photographer Kerry McGuire
Share your thoughts with our readers >>