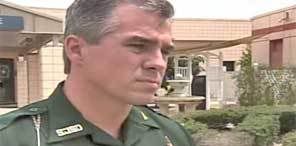 Sgt. Chuck Mulligan reported to Historic City News that the St. Johns County Sheriff's Office has responded to the north bound rest area on I-95, near S.R. 206 following the discovery of two deceased individuals, one male and one female, in a Black 4 door Volkswagen.
The two are believed to have been in the parking lot for several days before being discovered.
There were no obvious signs of trauma visible on either of the subjects at the scene, who are believed to be in their 20's. Although no apparent signs of foul play were obvious, the deaths are currently being listed as suspicious by detectives with The Homicide Section until an autopsy can be performed by The Medical Examiner's Office, and a cause of death determined.
Following notification of their next of kin, the Sheriff's Office identified the subjects as Kenneth L. Oldham, W/M, 06-22-1985, 23, of Morehead, Kentucky and Kayla R. Hinton, W/F, 09-22-86, 22 of Olive Hill, Kentucky.
Share your thoughts with our readers >>