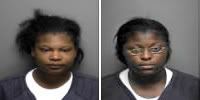 Historic City News has learned that two Duval County women are in custody in connection with an attempted robbery of a St. Johns County woman at her home on Friday afternoon.
The two suspects, identified as Tiffany Tennile Rose, 28, 2150 Emerson St., Apt. 166, and Andrea Lakisha Longstreet, 19, 2080 Danson St., were located and arrested.
The incident began at 3:15 p.m. Friday afternoon when the victim stated that the doorbell rang at her home in Riverdale.
The victim found a woman standing at her door who stated that she was lost. The woman reportedly asked the victim for directions to Palatka.
When the victim stepped outside her home and began to give directions, according to police reports the passenger jumped out of her vehicle wearing a mask and brandishing a handgun.
The victim fled to a neighbor's yard where she called the Sheriff's Office.
The two suspects fled the scene in a white passenger car heading northbound on C.R. 13 South.
Deputies located and observed the vehicle at C.R. 13 South and Heritage Landing Rd. a short time later.
Deputies found duct tape, a mask and a 12 gauge shotgun inside the vehicle.
The victim was taken to the traffic stop and positively identified the two suspects.
Deputies seized the vehicle and the two suspects were booked into the County Jail.
Let us know what you think >>