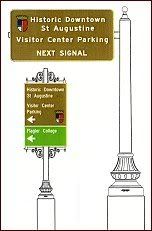 The City of St. Augustine has updated Historic City News on a temporary lane closure necessitated by the installation of directional and informational signs that are part of the city's Heritage Sign Project.
Affected by this traffic advisory are northbound travelers on Ponce de Leon Blvd. (US 1) at SR-312.
The closures will start at 7:00 p.m. Thursday, October 29th and end before 6:00 a.m. on Friday, October 30th.
Although the closures will not affect the entire northbound traffic flow, congestion and detours should be expected.
Let us know what you think >>