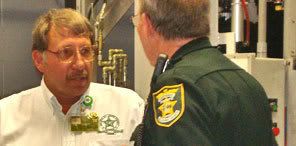 Kevin Kelshaw reported to Historic City News that Deputies with the Sheriff's Office Traffic Unit will be out in force this weekend in an effort to remove impaired drivers off the road.
Tomorrow night deputies will be conducting a D.U.I. checkpoint and on Saturday deputies will be on alert for impaired drivers throughout the county.
This Friday night deputies will be conducting a D.U.I. Checkpoint at an undisclosed location in St. Johns County. This operation will involve only very brief delays for most motorists. Deputies at the checkpoint will be alert for impaired drivers as well as for major equipment problems, child restraint violations and other serious threats to the safety of the general public. Motorists will also be asked to show their drivers' license, registration, and proof of insurance.
On Saturday evening deputies will be out in force throughout the county seeking impaired drivers. Deputies will be targeting motorists driving in an unsafe manner or who display signs of being drunk or impaired.
In St. Johns County alone 353 people were arrested for D.U.I. in 2006 and 570 for the year 2007. In the first six months of 2008 256 were arrested on D.U.I. charges.
St. Johns County Sheriff David Shoar is committed to making the roads safer through the use of D.U.I. checkpoints, saturation patrols, as well as educational programs for our teens.
Let us know what you think >>