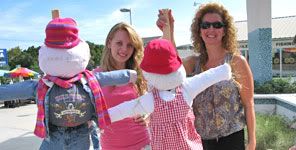 Sacha Martin reported to Historic City News that two Vilano Town Center businesses, Pawnee's Café and Haley's Pub, will be competing on Sunday, November 1st, to see who can make the best scarecrow.
The Girl Scouts from our local troop # 1118 will be on hand for the scarecrow making contest and are experts at their craft. They have free straw and supplies available to help you make your own scarecrow. There is a contributions jar to thank them for their assistance.
The Girl Scouts will welcome you to their s-mores Pit; with s-mores making kits for making on site or to take home, candied apples and Girl Scout cookies — for sale to help raise funds to send members of the troop to attend the World Association of Girl Guides and Girl Scouts in Switzerland in 2012.
All scarecrows will be photographed for judging. Bring a crazy scarecrow costume for best results. Child size clothing is preferred. Participants take their creations home the same day.
The scarecrow making contest will continue every Sunday at the Vilano Beach Pier, until November 29th when the winners will be announced.
Come for the scarecrow making contest then stay for the fresh produce, refreshments, music and handicrafts at The Sunday Market.
Let us know what you think >>