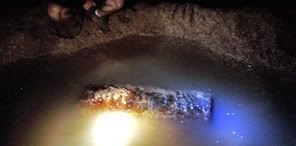 While still dark and with water intruding into the hole, deputies responded to Ponte Vedra Beach this morning to investigate a possible World War II generation military ordinance discovered in the sand.
The Sheriff's Office Bomb Squad assessed the device which is potentially believed to be a WWII era "Depth Charge".
Due the deteriorated condition of the container and the belief that the device is military, the US Navy EOD Team was notified.
The current course of action for this device will be an in place detonation on the beach.
Both Bomb Teams will be preparing the beach area with sand bags and an evacuation of the two adjacent condominium complexes near The Cabana Club.
Ponte Vedra Boulevard will be closed during the detonation in the area near Corona Road and the affected areas along the beach.
The detonation will be a controlled action, and there is no information prompting an immediate evacuation.
Deputies began notifying residents affected by the detonation at about 8:30 a.m. this morning.
Share your thoughts with our readers >>