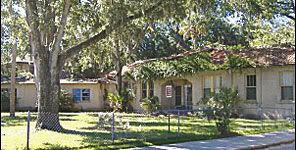 Historic City News local St. Augustine news desk has learned that ownership of Lincolnville's historic Echo House will be transferred to St. Paul AME Church — subject to approval of the city commission.
According to an article that appeared in today's St. Augustine Report, St. Paul AME Pastor Ron Rawls is awaiting deed transfer paperwork from the Echo House Board of Trustees, headed by Carlotta and Tony Miles, heirs of the late Rosalie Gordon Mills.
Commission approval is expected to be sought in February.
The city is involved in the ownership of the property through a reverter clause in the deed — activated if the property is not maintained for non-profit services.
Meanwhile, on January 12th, the vacant property previously used as the Buckingham Smith Nursing Home, goes before the City of St. Augustine Code Enforcement Board with a progress report after being tagged last October for being unsafe.
For many years the property was maintained by Mrs. Mills. Her heirs have struggled to make improvements, but they live in Washington, DC and have been unable to maintain a hands-on effort.
Reverend Rawls said Echo House, across Dr. Martin Luther King Jr. Avenue from his church, is "an ideal fit" with the church's plans for a School of Excellence. "We'd been searching for a location for the school," Rawls said, "so the timing is perfect."
Said Tony Miles, "I'm sure Mrs. Mills would be happy to know that Echo House will be used for educating our young people."
Facebook Comments