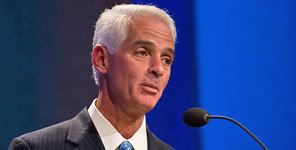 Governor Charlie Crist and Florida Department of Law Enforcement Commissioner Gerald Bailey joined Florida Sheriffs and Police Chiefs yesterday afternoon to announce the state's 2009 Annual Uniform Crime Report.
The report indicates the state's overall index crime rate has reached a 39-year low, declining by 6.4 percent in 2009, compared to 2008. The number of violent crimes (murder, forcible sex offenses, robbery and aggravated assault) committed in Florida dropped 10 percent last year; the number of non-violent crimes (burglary, larceny, and motor vehicle theft) decreased 6.2 percent.
"The significant decline in Florida's crime rate represents the lowest rate in 39 years and is an encouraging indicator that our crime prevention efforts are working," said Governor Crist. "I applaud the Florida Department of Law Enforcement and law enforcement officers statewide for their outstanding work, making Florida safer for residents and visitors."
The number of murders in Florida dropped by 12.9 percent in 2009, while the number of forcible sex offenses dropped by 5.5 percent. In addition to the decreases in murders and forcible sex offenses, declines were also seen in the other five index crime categories: robbery (-14.8 percent), aggravated assault (-8.4 percent), burglary (-3.5 percent), larceny (-5.3 percent), and motor vehicle theft (-20.9 percent). The 2009 Annual Uniform Crime Report includes offenses reported during 2009 and data submitted by 409 of the 415 local, county and state law enforcement agencies.
These agencies serve approximately 99.9 percent of the state's population.
In March 2007, Governor Crist signed the Anti-Murder Act, requiring violent felony offenders who violate probation to remain in jail until a court finds that they do not pose a danger to the community. Also in 2007, Governor Crist signed legislation to strengthen sentencing laws for sexual offenses and enhance law enforcement capabilities in Florida, further protecting Florida's children from predators.
"Florida law enforcement does a tremendous job protecting our citizens and safeguarding our communities," said Commissioner Bailey. "We've taken a proactive and progressive approach to public safety and that's helped us attain the lowest crime rate in almost four decades."
"With crime in Florida at the lowest rate in 39 years, we are seeing our state truly become a safer place for our children, our families and our neighborhoods," added Attorney General Bill McCollum. "From the new cybercrime laws to our anti-gang efforts, Florida law enforcement and prosecutors have new tools to help protect our state, and I am proud of the crucial role the Attorney General's Office has played in these efforts."
The number of reported domestic violence offenses increased by 3 percent. Spouses and cohabitants continue to account for more than half the victims of domestic violence crimes. Domestic violence offenses accounted for 40.7 percent of comparably reported violent crimes. Approximately one-fifth (20.4 percent) of all murders were domestic violence-related incidents.
The complete report, including county-by-county breakdowns, can be found on FDLE's Web site at: http://www.fdle.state.fl.us/fsac/ucr/
Share your thoughts with our readers >>