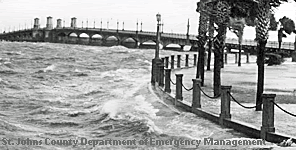 Today marks the beginning of the 2010 Atlantic hurricane season and local St. Johns County reporters at Historic City News encourages all of our readers to put together a plan and a disaster kit with food, water and medications.
The St. Johns County Department of Emergency Management and our local first responders are prepared to take action should a storm make its way to our shores.
Just as they have taken time to plan and prepare, so should Florida families and businesses.
On the website FloridaDisaster.org, you will find separate tools to help you organize either a family disaster plan or a disaster plan for your business.
"Experts are forecasting an active season, and it is essential that the people of Florida take steps now to prepare, before a storm strikes," said Governor Charlie Crist in a press release earlier today. "While we pray for a quiet hurricane season, there is always a very real possibility a storm will come our way, and preparation is the key to survival."
Share your thoughts with our readers >>