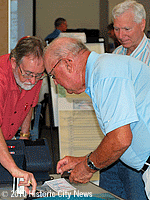 In what started out to be a light turnout of early voters during the first week, 9,156 compared to over 20,000 during the first week in the last General Election, this week's response closed the early voting session with a stronger finish.
A total of 3,785 ballots were cast today, bringing the grand total of early votes to 24,440 according to unofficial totals provided by St. Johns County Supervisor of Elections Penny Halyburton.
Julington Creek was today's most active polling location with 1,190 ballots voted.
In early voting, voters are able to vote at any open polling place, therefore, early voting results are not indicative of traditional voting precincts.
When voting opens again on Election Day, Tuesday, November 2nd, remaining ballots will have to be cast at the voter's home precinct. Early voting and the results of the canvas of absentee ballots will be available soon after the polls close at 7:00 p.m. — followed with final numbers later in the evening.
Photo credits: © 2010 Historic City News staff photographer
Share your thoughts with our readers >>