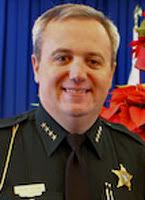 Sheriff David B. Shoar tells Historic City News local reporters that he is looking forward to Friday night's 26th Annual Awards Banquet honoring the men and women of the St. Johns County Sheriff's Office.
"Our deputies, communications officers and civilian personnel are among the best in the state," Shoar told Historic City News today. "It is an honor for me each year to be able to recognize the defining moments of their service to our county."
The year-in-review event will be held in the St. Johns County Convention Center at World Golf Village on Friday, May 21st — with dinner served at 7:00 p.m. and the awards ceremony beginning at 8:00 p.m.
As in past years, in addition to members of the Sheriff's Office, Shoar is expected to recognize the contributions of civilian members of the community who have provided support and sponsorship to the cause of professional law enforcement in St. Johns County.
Share your thoughts with our readers >>