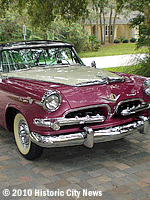 Ancient City Auto Club announced to Historic City News local event reporters that their organization will hold the 26th Annual Auto Show and Craft Fair on September 25th at the campus of Florida School for the Deaf and Blind located at 207 North San Marco Avenue in St. Augustine.
Registration opens at 8:00 a.m. and continues through noon. Fees are $15 if you preregister by September 21st, or, $20 at the show.
Club members will start arriving at 6:30 a.m. for breakfast and to get set up.
In addition to judging in over thirty classes of antique cars, this year's event will include crafts and art vendors. There will be a bar-b-que lunch available, dash plaques to all entrants and lots of door prizes.
Awards will commence at 3:30 p.m. or earlier with trophies going to 1st, 2nd, and 3rd place.
The club will hold a 50/50 drawing after this rare opportunity to visit the beautiful school campus and enjoy the car show on grass under towering shady oaks.
The Ancient City Auto Club held its first car show in 1985 and has conducted an event each year since then. The club was formed in 1983 and operated independently until 1988 when the Ancient City Auto Club received accreditation and became the Ancient City Region of the Antique Auto Club of America.
Founding members Bob Quackenbush and Dewey Porter are still active today.
JUDGING CLASSES
1. All makes to 1928
2. 1928-42 All makes cars*
3. 1946-59 All Ford cars*
4. 1946-59 All GM cars*
5. 1946-59 All Other makes cars*
6. 1960-69 Buick Olds Pontiac Cadillac
7. 1960-69 Chevrolet all except Corvette
8. 1960-69 Ford, Lincoln, Merc except T Bird
9. 1960-69 Mopars
10. 1960-90 All others
11. 1970-90 Ford, Lincoln, Merc
12. 1970-90 GM cars
13. 1970-90 Mopars
14. 1953-73 Corvettes
15. 1974-04 Corvettes
16. 1955-90Thunderbirds
17. 1964-90 Mustangs
18. All Volkswagens
19. All to 90Foreign cars
20. PT Cruisers
21. All years/makes Trucks to 64
22. All years/makes Trucks 1965-90
23. All years replicas:, Special Factory customs
24. All Historic Unrestored originals to 1975
25. Motorcycles to 1990
STREET RODS & MODIFIEDS
26. All Years and Makes to 1936
27. All Makes 1937-42
28. All Makes 1946-54
29. All Makes 1955-90
30. "Tuners" All Makes and Years
DESIGNATED CLASSICS*
31. 1925-1948 Designated Classics
An important change for club members: the after show dinner will be at Creekside Restaurant at 6:00 p.m. The previously announced Kingfish Grill was not able to accommodate our size group.
Let Karen Erwin know if you plan to attend the dinner.
The purpose of the club is to promote the acquisition, restoration, preservation, use and study of all types of motor vehicles including motorcycles and trucks. Membership in the Ancient City Region automatically gains inclusion into the national Antique Automobile Club of America located in Hershey, Pennsylvania. Any vehicle 25 years old is eligible to participate in AACA functions.
The Ancient City Auto Club meets the first Thursday of every month. If you are interested in learning more about the club, contact Dewey Porter at 904-797-7732 or John Guarnieri at 904-825-6751.
Share your thoughts with our readers >>