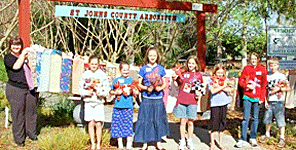 Historic City News reporters found that pillow cases, teddy bears and tissue bags lined the hallway of Betty Griffin House after the Busy Bees 4-H Sewing Club donated these colorful sewn items.
Each new resident at Betty Griffin House will feel a little more at home with a brand new pillow case, and each child will have a new teddy bear to hold tight at night.
"Special thanks to Patty Girvan," said Kelly Franklin, Outreach Director of Betty Griffin House. "Patty is one of several club leaders that helped to make this project possible."
The 4-H Sewing Club meets the second Saturday of every month at the Agricultural Center in St. Augustine, and they work on different sewing projects, while learning new techniques.
As a private, nonprofit agency, Betty Griffin House provides emergency shelter to abused women, men, their minor children. Other support services available to shelter residents and non residents include a 24-hour crisis hotline, individual and group counseling, forensic / medical rape exams, and legal assistance. Confidential individual and group counseling are available in all parts of St. Johns County including, Hastings, Ponte Vedra Beach, St. Johns, St. Augustine and St. Augustine Beach.
For more information or to make a donation, visit their website at www.bettygriffinhouse.org. Become our fan on Facebook.
If you or someone you know is being abused, please call our hotline at (904) 824-1555.
Share your thoughts with our readers >>