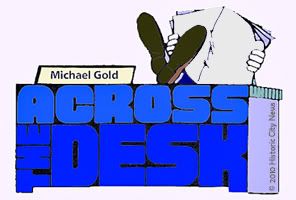 I have some concerns — and, if you are paying attention, you should as well.
Everybody in the City of St. Augustine seems to be overflowing with high hopes and glorious expectations of the commemoration of our 450th birthday … well, not everybody.
400 years is a "Quadricentennial" anniversary — 500 years is a "Quincentennial". How many people know what a 450 year anniversary is called? Pensacola ran a year-long celebration last year; claiming to be their 450th founding anniversary marking Spanish explorer Don Tristan de Luna's 1559 arrival at Pensacola Bay.
King Juan Carlos and Queen Sofia of Spain set the tone of the Pensacola commemoration with a royal visit on February 19, 2009. By the way, St. Augustine does not have a commitment from the royals to come to St. Augustine if, and when, we actually throw a 450th party.
Most notably, and possibly most disconcerting to me, are the several activities being undertaken by the City of St. Augustine in the name of this commemoration — which might very well never come to pass.
The mayor of St. Augustine seems intent on seeing this commemoration to fruition, always speaking publicly as if a Federal commission and Federal funding were a "given" — when in reality; this idea is far from a "done deal". I am reminded of the fable of the emperor's clothes — where the entire kingdom praises the emperor on his fine attire, for fear of the emperor's wrath; all the while the emperor stands before them — naked.
In an article that appeared in The Record on March 11, 2009, the subtitle "Some commissioners 'stunned' about sudden choice", then City Manager Bill Harriss brought on Dana St. Claire "as interim executive director of the city's 450th birthday celebration effort." The article goes on to say, "Ste. Claire will officially be on board about April 1 and is called "interim" until a 450th Anniversary Commission receives federal dollars."
Mayor Joseph Boles was at least forewarned, if not the instigation, of the new $ 86,100.00 a year position created for Ste. Claire who is now the "Executive Director" even though no federal dollars have materialized.
And what's to make anyone think that the Mayor, Dana Ste. Claire, or anyone else can deliver federal dollars when, to date, they haven't even been able to achieve a Federal 450th Commission?
There have already been, not one, but, two "steering committees" — the "official" Boles hand-picked committee and the "un-official" 450th Corps lead by former mayor George Gardner.
Most recently, talk has turned to disbanding Mayor Boles' "official" committee as Boles appears to have propped up Donald W. Wallis, an attorney with Upchurch, Bailey and Upchurch, to incorporate "First America Foundation, Inc." ostensibly a private, non-profit foundation to raise money and coordinate the "official" operations of the eagerly awaited 450th party.
The purpose of the yet un-appointed and un-funded Federal legislation is to establish the "St. Augustine 450th Commemoration Commission, to plan and execute programs and activities to commemorate the 450th anniversary of the founding of St. Augustine, Florida."
Originally introduced November 15, 2007, as the "St. Augustine 450th Commemoration Commission Act of 2008", sponsored by Sen. Mel Martinez [R-FL] and co-sponsored by Bill Nelson [D-FL], this bill never became law — in fact, it never made it out of committee for a House or Senate vote.
The Commemoration Commission Act of 2008 was proposed in the 110th Congress. Sessions of Congress last two years — at the end of each session all proposed bills and resolutions that haven't passed are cleared from the books. Because this bill was introduced in a previous session of Congress, no more action can occur on it.
Members often reintroduce bills under a new number in the next session and that happened in this case.
On January 13th of last year, this bill was re-introduced before the 111th Congress, re-titled "St. Augustine 450th Commemoration Commission Act of 2009".
This is a bill in the U.S. Congress, originating in the House of Representatives, introduced by Rep. John Mica [R-FL7] with 24 co-sponsors — all of which are from Florida.
This bill is only in the first step in the legislative process. Introduced bills and resolutions first go to committees that deliberate, investigate, and revise them before they go to general debate.
The majority of bills and resolutions never make it out of committee. The last action taken on the current legislation occurred on February 24, 2009 when it was referred to the Subcommittee on Federal Workforce, Post Office, and the District of Columbia.
A bill must be passed by both the House and Senate and then be signed by the President before it becomes law.
Good judgment and fiscal restraint should be the watchwords for the city's involvement and financial commitments to a potentially "Super Bowl" sized disaster — promoted only by those who see elusive dollar signs at the end of a very dark tunnel or suffer egos the size of the Florida Everglades.
Share your thoughts with our readers >>