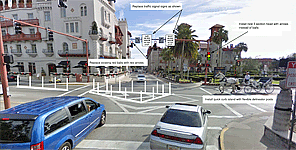 Historic City News local reporters were notified that the City of St. Augustine will be making improvements in signage, traffic lights and the installation of quick-curbs, in an effort to help relieve traffic congestion at the intersection of King and Cordova streets.
Quick-curbs are pre-fabricated rubber like street barriers which will force vehicles to remain in specific turn lanes at the intersection, preventing vehicles from crossing into adjacent lanes.
After completion of the project, which will begin and end tomorrow, Tuesday, October 25th, there will be a three to four month period of evaluation.
The success of the evaluation, which will be determined by any relief from traffic congestion in the intersection, will indicate to the Public Works Department whether or not to make the changes permanent.
Share your thoughts with our readers >>