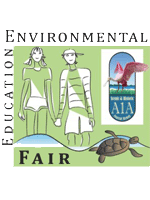 Historic City News noted more than 500 St. Johns and Flagler County byway travelers and residents turned out recently for the Friends of A1A Scenic and Historic Coastal Byway first annual Environmental Education Fair at Marineland.
The Fair featured interactive workshops, storytelling, entertainment and a large beach clean-up.
The goal of the day was to show how important people are in preserving and protecting the coastal corridor through community activism in keeping beaches clean. The daylong event brought environmental experts and the public together to experience and discuss the linkages between people and nature.
Participants at the free event learned about all aspects of the 72-mile Byway, such as its seashells, birds and endangered wildlife, including the right whale and sea turtles. Marine archaeology and other historical aspects of the Byway were also featured, as were how to create backyard habitat for wildlife.
All who attended were awed by the speakers and entertained by nature's sounds on flutes, seashells and guitars. Participants visited the more than 50 vendors in attendance and some kayaked along the scenic Matanzas River.
The keynote speaker at the event was Michael Klubock, founder and Executive Director of the Malibu Foundation for Environmental Education in California.
After speaking, Klubock led the group on a beach clean-up at the River to Sea Preserve that concluded with an aerial flyover to photograph the participants and their litter bags. The aerial art for the day was the "O" symbolizing Friends of A1A's love for the ocean by keeping it litter free.
Friends of A1A has been conducting at least two beach cleanups per month for the past year along the byway.
Over the past year, 1,446 persons have volunteered, removing 3,117 pounds of litter from the beach. In addition, seven organizations have agreed to adopt a beach.
The Friends of A1A has already begun planning for next year's Environmental Education Fair, which is tentatively scheduled for Friday, May 20 as a children's day and Saturday, May 21 for the general public.
The Friends of A1A Scenic and Historic Coastal Byway Highway wish to thank the sponsors of its First Annual Environmental Education Fair. They are: Coastal Management Program, National Oceanic Atmospheric Administration, Hammock Dunes Resort, Dolphin Conservation Center at the Town of Marineland, WNZF / Beach 92, Solar Fit, University of Florida Whitney Laboratories, WFOY/ESPN, Black Raven Pirates and Just Aerials-Yacht Shots.
Share your thoughts with our readers >>