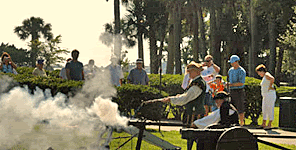 Historic City News reporters listened to complaints from several Water Street residents during last night's regular meeting of the City Commission about the impact of daily cannon firings from the Fountain of Youth Park.
Michele L. Van Doren was the first to speak under "General Public Comments"; explaining that her windows at 82 Water Street now shake with each blast of the replica cannon purchased by the park in March, 1997.
Jason Lanier Fort and Virginia G. Stoppelli reside at 68 Water Street — each says the cannon fire should be stopped. Fort proposes an outright ban of cannons on private property within the city while Stoppelli expressed concern that the blast is directed over the area of Bird Island.
A surprised John Fraser, the grandson of the founder of the archeological park, responded after public comment at the request of the mayor. After what was becoming a lengthy, legal discussion over definitions of a firearm and exemptions under existing noise ordinances or discharge of firearms ordinances, Commissioner Don Crichlow posed a simple question — "Has anyone spoken to the Fraser family about this?"
Fraser responded by saying that he had no idea that there was this animosity in the neighborhood since his only contact had been twice with Police Commander Barry Fox and once with City Attorney Ron Brown. "We started daily cannon firings at the park about April, 2008," Fraser said.
Fraser said that after a private reenactment group fired the cannon about 8:00 p.m. a couple of months ago, he responded to a request by installing a sound baffling wall and reducing the amount of gunpowder used in each charge from 6 ounces to 4 ounces. "We try to stick to a schedule," Fraser said. "We've gone to firing the cannon only once an hour between 10:00 in the morning with the last firing at about 4:00 p.m. or 5:00 p.m."
Fraser explained that he was a "very approachable" person, "If there's a problem, they can e-mail me or call me and no one did."
Fraser also pointed out that if anyone has any question about activities at the park, they can simply come inside "Admission for local residents is free," Fraser said. "Or, just call me — I'm in the phone book."
Commissioner Nancy Sikes-Kline admitted that although Fraser had not heard the complaints, she had — and she decided to take them up with the City Attorney rather than contacting Fraser directly. Sikes-Kline reiterated a list of steps that Fraser has offered to take to reduce the impact on neighbors.
Fraser, obviously piqued, pointed out that the Fountain of Youth park has been in his family for three generations. "We've owned the park since 1927," Fraser said. "We've foregone development to keep it the way it is, as an asset to the city."
After the break, City Attorney Ron Brown reported to commissioners that he met with Fraser and the residents, "phone numbers were being exchanged, and it appears there will be better communication among neighbors – which is the way it should be."
Photo credit: © 2010 Historic City News contributed photograph by La Compañía de Juan Ponce de León
Share your thoughts with our readers >>