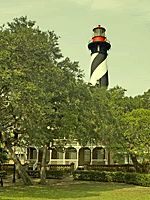 Historic City News reminds our readers that this Saturday, March 21st, it's time for the 18th annual Lighthouse Festival; this year featuring the Michelob Ultra 5K Run-Walk and the Shepard & Shepard Fun Run.
Runners will compete on a flat 3.1-mile course through historical Lighthouse Park and Davis Shores. The 5K Run begins at 4:30 p.m. and the Fun Run begins at 5 p.m.
There will be post-race refreshments to all runners. An awards ceremony follows the fun run. The top male and female runners will be awarded a $100 cash prize and trophy. Additional awards will be given to the top 3 runners in each age division; 10 and under, 11-14, 15-18, 19-24,25-29,30-34,35-39,40-44,45-49,50-54, 55-59, 60-64, 65-69, 70 and over.
Public Information Coordinator Cathy DuPont has advised local news reporters in St. Augustine that the Lighthouse 5K Run will necessitate minor interruptions in traffic. Drivers are cautioned to avoid the affected areas during that time. Traffic will be detoured or momentarily interrupted during the race — use caution and expect brief inconveniences.
The annual Lighthouse Festival will include a 5K Run-Walk and Fun Run that will affect traffic in the Lighthouse and Davis Shores Neighborhoods. Both races will start and finish in the front lawn of the keepers' house at the St. Augustine Lighthouse & Museum on Red Cox Drive.
The race follows a route along Anastasia Blvd., Anastasia Park Dr., Lew Blvd, Red Cox Dr., Lighthouse Ave., White St., Magnolia Dr., Ocean Way, Anastasia Blvd., Comares Ave., Ribault St., Arredondo Ave., Flagler Blvd., Comares Ave., Anastasia Blvd., Ocean Way, Magnolia Dr., White St., Lighthouse Ave. returning to the starting point.
Last year, throughout the day, about 8,000 visitors came to the lighthouse for the festival.
During the festival, St. Augustine Lighthouse & Museum will offer free admission to the tower, the museum and the grounds.
Free parking will be available at the St. Augustine Amphitheatre and there is a shuttle that will take you to the festival. Paid event parking will also be available at the Lighthouse & Museum.
The festival has lots of fun activities for both kids and adults. As always there will be special games and crafts for children, great food, pony rides, and archaeological activities. Children can even buy, build and sail their own model boat in the pond.
Local entertainers will perform throughout the day including live music from Josh n' Lou. Radio Disney AM 600 and the Disney Fun Squad cast will broadcast live from 11:00 a.m. until 1:00 p.m.
Photo credit: © 2010 Historic City News photographer Kerry McGuire
Share your thoughts with our readers >>