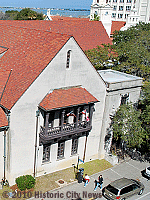 Last night, Historic City News reporters watched as city commissioners approved a Memorandum of Agreement with the University of Florida to "share in the common interest and purpose" of preserving St. Augustine's history.
City Heritage Tourism Director Dana Ste. Claire allayed concerns from the university's strategic plan that was shaped two years ago, saying our Visitor Center will not be replaced by the proposed Castillo Orientation Center in the Spanish Quarter, "and you won't see blue and orange university signage around town," referring to the strategic plan's "UF branding of state-owned assets."
The partnership between the city and the University of Florida, who now manages the 34 state-owned properties here, begins with nearly $483,873 in repairs to eleven properties, including the restrooms on St. George Street and the Government House.
University Vice President Ed Poppell said he also has "a shopping list of grants and legislative initiatives" prepared to generate future capital for ongoing historic property repairs.
The agreement gives the city management of the Spanish Quarter, and reporters learned that a direct support organization will oversee the entire university management here.
Photo credits: © 2010 Historic City News staff photographer
Share your thoughts with our readers >>