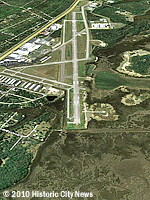 Cindy Hollingsworth reported to Historic City News on the long awaited elimination of an ad valorem tax levy by the St. Augustine Airport Authority made official at a resolution signing ceremony yesterday evening.
"It is most refreshing to have something as unusual as the elimination of a tax to celebrate," said Ron Sanchez, County Commission Chairman. "I wouldn't have missed it for the world."
The final budget hearing by the St. Augustine Airport Authority was held at 5:00 p.m. Monday — the resolution to adopt a "zero mills" budget was approved by the 5:30 adjournment.
The Authority previously expressed concerns that they should approve a minimal tax assessment; believing that they would no longer have the right to assess in the future should conditions warrant. Authority attorney Doug Burnett with the St. Johns Law Group contacted Attorney General Bill McCollum's office for an opinion before proceeding then reported that he believes the Authority is on firm footing.
"In 2004, we promised the taxpayers we would remove the Authority from the tax rolls in seven years," said Wayne George, a member of the Board of Directors. "After much work to position ourselves so this could actually be done, we have arrived."
The Authority had already voted on August 16th to lower its tax rate so drastically that the average homeowner would pay nothing.
To commemorate this momentous event, members of the St. Augustine Airport Authority including Kelly Barrera – Chairperson, Jim Werter – Secretary/Treasurer, Carl Youman, Wayne George and
Jack Gorman, were on hand for the special "Airport Independence Day" signing ceremony.
Executive Director Edward R. Wuellner, introduced former members of the St. Augustine Airport Authority including Randy Brunson, Joseph Ciriello, Suzanne Green, James Carl Davis, Kenneth Forrester, Laurence Carnes, Susan Drago, Victor Martinelli and William Young, who signed the resolution recognizing this significant achievement.
Current board members, past members of the Authority and the Airport Authority Staff, have all contributed to this success. Other local and state dignitaries were in attendance.
Photo credits: © 2010 Historic City News staff photographer
Share your thoughts with our readers >>