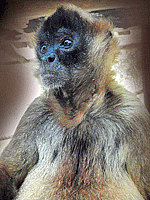 Today, the St. Augustine Alligator Farm Zoological Park bid a fond farewell to Charlie, a Black-handed Spider monkey who has resided at the Alligator Farm since 1977.
Charlie is being relocated to the Wildlife Rescue and Rehabilitation Sanctuary (WRR) in Kendalia, Texas, where he will be introduced to multiple groups of Spider monkeys and will be able to choose a new family.
The relocation comes after Charlie lost his long-time companion, Linda, in May 2010. Linda, one of the oldest Spider monkeys in the world, passed away at The Alligator Farm at the age of forty-three. Linda and Charlie had two offspring together in the early 1980's. Since her death, The Alligator Farm has been working on finding companionship for Charlie, who had originally been a pet prior to being donated to The Alligator Farm in 1977.
The Black-handed Spider monkey, Ateles geoffroyi, is a naturally social animal. There are seven species of Spider monkeys found in the tropical forests of Central and South America. In the wild, their status is considered vulnerable due to habitat destruction caused by deforestation and agriculture. At WRR, Charlie will enjoy one- to two-acre enclosures featuring full grown trees.
"We will miss Charlie terribly," said John Brueggen, Director and General Manager of The Alligator Farm. "He's been a part of The Alligator Farm for so many years, and many of our visitors and staff have enjoyed his company for a long time. But we're overjoyed that we've been able to find such a wonderful new home for him, one where he'll have the opportunity for the companionship he craves. It's a great day for Charlie."
This winter, The Alligator Farm's Spider monkey exhibit will be renovated to prepare for the newest exhibit—fun-loving ruffed lemurs. Ruffed lemurs are natives of Madagascar and are known for their highly-vocal antics and their wild leaps through the highest branches of the trees in their habitat.
Share your thoughts with our readers >>