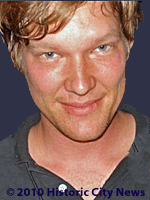 The 31 year-old General Manager of the St. Augustine Amphitheatre finds himself on administrative leave from his post today, but the St. Johns County public affairs office is not commenting on the details.
The word received from sources this morning was that Ryan Richard Dettra, had been placed on administrative leave from his $70,875 a year position by Parks and Recreation Director Troy Blevins.
That part of the story was confirmed by Public Affairs Specialist Karen Pan in the Office of the County Administrator. The response was brief:
"You are correct that Ryan Dettra was placed today on paid administrative leave.
I apologize that I cannot provide further details."
We have been told from outside sources that Dettra's "extended absence", as it was called this morning by the amphitheatre office, may have been the result of concerns over accountability of cash changing hands in the operation of the amphitheatre, however, that has not been confirmed.
In the interim, Dettra continues to receive full pay.
We called the only number available for the former owner and founder of Café Eleven at St. Augustine Beach and were able to speak to his mother and left word for him to return our call. We will update this story as it develops.
Share your thoughts with our readers >>