St. Augustine Vice-Mayor and Commissioner Errol Jones boarded the Amtrak train in Daytona Beach yesterday, along with former St. Augustine Mayor and Commissioner George Gardner, joining Historic City News Editor Michael Gold for the next-to-last leg of Amtrak's inspection tour of the Florida East Coast railway between Miami and Jacksonville.
"My wife is also my publisher," Gold told Amtrak representatives as they checked in and boarded the train in Melbourne. "We are both very honored to have been invited and grateful to be able to attend."
Jones shared stories with Gardner in the dining car where they were served a box lunch prepared by Panera Bread. Jones recalled visiting his grandfather who worked for FEC at the millyard; just outside the north city gates.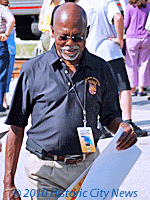 Jones was one of the original officials in St. Augustine soliciting support for the return of passenger rail service. "Amtrak will be pleased with the response from our community," Jones said. "We looked at the old FEC depot but the intersection of San Marco and Ponce de Leon Boulevard was too complicated." Jones favors the Carrera Street location recently approved by the St. Augustine City Commission. "It will take some time to build," Jones said. "But, I see a place for rental cars, taxi cabs and other forms of transportation."
Asked about another Greyhound Bus depot, Jones says when Greyhound closed its location off SR-207, the city was happy to rent them space at the Castillo Drive parking garage. "We might have been willing to build something for them to have ticket sales," Jones said. "They didn't want that, they wanted to try ticket vending machines or Internet."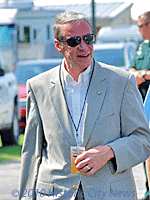 Gardner said, "The Carrera Street station is in close proximity to the Historic Downtown Parking Facility; it wouldn't take much to re-establish a shuttle between the two locations." The parking garage was one of three agenda items Gardner says that he had when he ran for his seat on the commission.
Also getting onboard in Daytona Beach was City Manager Bill Harriss' father, Bud; who was recognized at last week's city commission meeting in conjunction with a proclamation celebrating National Train Day in St. Augustine. The elder Harriss has constructed an extensive "G" scale train system in the backyard of his home. "The train cars are about the size of a loaf of bread," Harriss said. "Of course, I mean a loaf of Texas toast." Periodically, Harriss invites school groups and others to visit the trains that encircle a small pond occupying a large part of his property.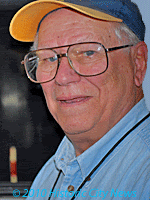 TDC Director Glenn Hastings, complete with seventy-five pounds of camera and recording gear, also boarded in Daytona Beach. Hastings is making a documentary about the trains and their role in tourism and impact on the economy. When asked if he made it out of the double-deck observation car, Hastings replied, "Oh, yes. I covered the whole thing and went into all of the cars."
Governor Charlie Crist saw the train off in Miami yesterday morning, saying, "I want to thank Amtrak and the Florida East Coast Railroad for continuing to expand Florida's vision of how rail can connect our cities, roads, airports and seaports, and most importantly, create jobs for Floridians."
"An expanding partnership between Amtrak and the states is vital to the future development of passenger rail service along some of our most populous corridors including the east coast of Florida," said Amtrak Chairman Thomas Carper. "We look forward to working closely with the Florida Department of Transportation and the Florida East Coast Railway to bring Amtrak service to these communities."
Governor Crist echoed Carper's message, saying, "Inter-city passenger rail is a logical next step, and today's effort symbolizes how partnerships will help make this vision a reality."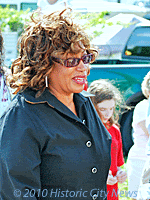 Although Jacksonville's 3rd U.S. District Congresswoman Corrine Brown got on the train in St. Augustine, there were several other local officials who made St. Augustine their destination for the night. Among them, Cocoa Mayor Michael C. Blake who boarded in Cocoa, Bunnell Director of Grants & Special Projects Judi Stetson who boarded the train in Daytona Beach, and Mike Nowlin who is District 1 representative on the Melbourne City Council. Florida's 24th District Congresswoman Suzanne M. Kosmas rode with us from Cocoa to Titusville.
A series of outreach workshops were recently held in communities targeted as stops along the route to determine potential station locations. Criteria included station and platform size, available parking, community access, land use compatibility, and cost.
In mid-July, the Florida Department of Transportation is expected to apply to the Federal Railroad Administration for funding for the proposed Amtrak – FEC corridor project under the new Passenger Rail Investment and Improvement Act. Federal funding will require a local-state match f 20 percent of the project's estimated cost of $268 million.
If approved, eight new stations are planned at St. Augustine, Daytona Beach, Titusville, Cocoa, Melbourne, Vero Beach, Fort Pierce and Stuart. Major infrastructure improvements needed to implement the service include the construction of tracks to allow for stations, a new connection between FEC and the South Florida Rail corridor in Palm Beach County, and several long passing sidings that would allow trains traveling in opposite directions to pass each other.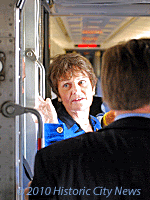 Currently, Amtrak serves Florida with three long-distance trains: the Silver Meteor and Silver Star, from New York to Miami via Jacksonville and Orlando, and the daily, non-stop Auto Train, from Lorton, Virginia, to Sanford. All Amtrak trains in Florida are operated exclusively on CSX-owned tracks, except for the Miami-to-West Palm Beach segment, where the State-owned South Florida Rail Corridor is used. Approximately one million passengers traveled on Amtrak trains in Florida last year, with Florida passengers accounting for approximately 60 percent of all Amtrak passengers on these lines.
Since 1998, the FDOT has worked closely with Amtrak and the Florida East Coast Railroad to bring passenger rail service to the communities along the east coast of Florida, where passenger rail service was terminated in the mid 1960s. The service, as contemplated, would result in the operation of two round trip trains per day on FEC tracks from Jacksonville to Miami.
According to 2001 estimates, the total cost of the required capital improvements was $82 million. In 2002, the Florida Department of Transportation committed a $61-million, one-time capital investment, with the balance coming from Amtrak, FEC and local governments. State funds were planned for capital improvements to the railroad and to build the eight stations along the corridor. As with all long-distance service, Amtrak was expected to assume responsibility for the operation of this service with no operating assistance expected from the State. Due to Congressional loan restrictions placed on Amtrak from 2003 until recently, this project was postponed.
Photo credit: © 2010 Historic City News staff photographer
Share your thoughts with our readers >>