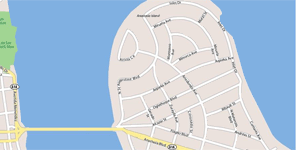 The City of St. Augustine has announced to Historic City News local reporters that the annual Bridge of Lions 5K Run will likely affect traffic in the Davis Shores neighborhoods once it is underway on Saturday, July 17th.
The event will begin at 7:30 a.m. — starting at the south side of Castillo de San Marcos.
Traffic will be detoured, or momentarily interrupted, during the race — so drivers in the affected areas are asked to use caution and expect brief inconveniences.
The event ends at approximately 10:30 a.m.
The route will take the participants south on Avenida Menendez from Castillo de San Marcos, east over the Bridge of Lions, then north on Gerado St., west on Arpieka Ave., north on St. Augustine Blvd. which transitions into Inlet Dr., south on Inlet Dr., west on Arpeika Ave., then south on Arrendondo Ave., east on Oglethorpe Blvd., south on Comares Ave. then west on Flagler Blvd, north on Zorayda Ave., east on Alcazar and finish at 305 Alcazar St.
Click on the map for an expanded view.
Vehicular traffic should avoid these areas during this time to avoid delays.
Share your thoughts with our readers >>