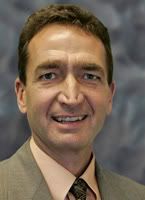 Planning and Building Director Mark Knight and City Attorney Ron Brown will outline legal steps necessary to revise the long-standing Historic Preservation District guidelines in a presentation before the City Commission Monday night.
Questions concerning "architectural style" of new construction in the historic districts were previously raised last summer when City Commissioner and architect Don Crichlow proposed a 20th century commercial building on St. George Street.
After extensive debate and public hearings, the commission turned down a proposal to build a revision of the Bishop's Building at St. George Street and Cathedral Place; deciding the architectural style should be Spanish colonial.
Crichlow, who as project architect did not participate in the Bishop's Building discussion, later said "We are a city of more than four centuries. We should highlight our different eras in architecture."
Commissioners appeared to agree that HP 3 – the restoration area north of Hypolita – should reflect Spanish colonial.
HP 2 south of Hypolita and HP 1 south of the Plaza might be debated for styles of different eras.
Among the legal steps Knight and Brown will outline are making changes by ordinance rather than resolution – which doesn't require public hearing – and updating the city's comprehensive plan which carries the original Historic Preservation District guidelines.
A proposed amendment to the recently passed extension of alcohol sales hours, a public hearing on an ordinance to ban trailer, boat and heavy commercial parking in residential areas, updates on the Chase Park Boys and Girls Club and the Gullah Geechee Cultural Heritage Corridor are also on the Monday night agenda.
The City Commission meeting begins at 5:00 p.m. in the Alcazar Room at City Hall.
Share your thoughts with our readers >>