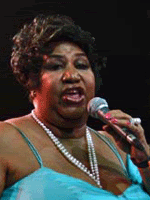 St. Augustine Visitors and Convention Bureau Communications Director Jay Humphreys announced the following weekend entertainment activities to the local St. Augustine news desk; including Romanza at Zorayda and an outdoor, one-night appearance by the Queen of Soul.
Friday: March 19
MARITIME ARCHAEOLOGY SYMPOSIUM
Presentations by featured speakers from across the nation offered free of charge at the Keeper's House Gallery of the St. Augustine Lighthouse, 81 Lighthouse Avenue. Plus, a field trip and a sunset cruise are available for a fee. Reservations for these two events are mandatory. More information, schedule, and registration forms are online at
www.staugustinelighthouse.com/blog.
ROMANZA BEGINS AT ZORAYDA
Exclusive, free event presented by ROMANZA, Where the Arts Embrace the Sea, at the magnificent Villa Zorayda, 83 King Street in St. Augustine. From 6-9 p.m., authors, musicians and artists will gather for a social event, book signing and silent auction benefitting ROMANZA. Authors include Stetson Kennedy, Karen Harvey and Linda Brandt. Music will be provided by violinist Dorothy Barrett, pianist Jamie Lee, singer Eli Grimes and others. Appetizers provided by chefs from the St. Augustine Independent Restaurant Association. Event is free, but reservations are required. To reserve a place at this exclusive event, simply email RomanzaFL@gmail.com
ARETHA FRANKLIN AT THE ST. AUGUSTINE AMPHITHEATRE
The Queen of Soul will be gracing the stage of the St. Augustine Amphitheatre for a one-night-only performance at 8 p.m. Tickets are $39 to $79. The St. Augustine Amphitheater, located on Anastasia Boulevard in St. Augustine, is Florida's newest outdoor performing arts venue. For more information or to purchase tickets, visit St. Augustine Amphitheatre.
HUBBLE AT IMAX THEATER
The story of the Hubble telescope, the most important scientific instrument since Galileo's original telescope, is told in grand style at the IMAX Theatre at the World Golf Hall of Fame at World Golf Village, I-95 Exit 323. Showing through April 30. For ticket prices and show times, visit World Golf Village or call 904.940.4123.
Friday, Saturday and Sunday: March 19-21
LIMELIGHT THEATRE: BAREFOOT IN THE PARK
Enjoy a presentation of this exciting and comedic Neil Simon play about a newly-wed couple, stuffed-shirt Paul and free-spirited Corie, adjusting to each other and married life while living in a miniscule 6th floor walkup in Greenwich Village.
The show takes place at Limelight Theatre, located at 11 Old Mission Road in St. Augustine. Show times through April 11 are Tuesday through Saturday at 7:30 p.m. and Sunday 2 p.m. matinees only. Tickets are $25 for adults, $22 for seniors and $20 for students and military. For more information, call 904.825.1164 or visit Limelight Theatre.
Friday and Saturday: March 19 & 20
WILD DREAMS – DISCOVERING HENRY FLAGLER
See Henry Flagler brought to life in this critically-acclaimed performance by Paul Jellinek. In Wild Dreams, Henry Flagler tells the story of his development of St. Augustine as a world class resort destination, his work with John D. Rockefeller, the expansion of his empire to the Keys – even the story of his three marriages. Performances are Friday and Saturday nights at 7 p.m. at the San Marco Theater across from Ripley's Believe It or Not! Museum in St. Augustine. Tickets are $12 for adults and $6 children. For more information, call 904.429.0280.
Saturday: March 20
18TH ANNUAL LIGHTHOUSE FESTIVAL & MICHELOB ULTRA 5K
Bring your family and join the fun when admission to the tower, grounds, and museum is free from 11 a.m. to 6 p.m. The historic Light Station will offer something for everyone, including local musicians and entertainers throughout the day, special games and crafts for children, food, living history portrayals, pony rides, terrestrial and maritime archaeology activities, contests and much more. The Annual Michelob Ultra Twilight 5K Run begins at 4:30 p.m. on the road in front of the Keeper's House. Advance registration is required to take part in the 5K Run. To register, call 904.824.3939. St. Augustine Lighthouse and Museum is located at 81 Lighthouse Avenue, St. Augustine. For more information, call 904.829.0745 or visit St. Augustine Lighthouse.
MENAHEM PRESSLER & THE NEW YORK CHAMBER SOLOISTS
Menahem Pressler, founding member and pianist of the Beaux Arts Trio, has established himself among the world's most distinguished musicians, with a career that spans over five decades. "…a poet, time and again revealing unexpected depths in works that have been endlessly plumbed and surveyed." (The New York Times). This ensemble of strings, winds, and keyboard has maintained a unique niche in the chamber music world for almost fifty years, with sometimes as many as twenty musicians with the addition of guest artists, giving it the flexibility to offer many works that are seldom heard. The performance begins at 8 p.m. at the Flagler College Auditorium located at 14 Granada Street in St. Augustine. Tickets are $30 per person. For more information, call 904.797.2800 or go to EMMA Concerts.
Sunday: March 21
CAPTAIN MAYHEM BENEFIT CRUISE
St. Augustine's very own Captain Mayhem is the only Florida pirate to be among the 24 finalists vying for the national title of Pirate Lord. Organized by Pirates magazine, the final competition takes place in Baltimore. To raise funds for the trip, the crew of the Black Raven will conduct a special cruise leaving the St. Augustine City Marina at 6:15 p.m. Lots of piratical entertainment, silent auction, gangplank prizes and more! For details and reservations, call 877.578.5050.
Share your thoughts with our readers >>