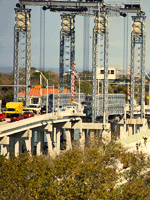 St. Augustine local news reporters learned that the state Department of Environmental Protection wants the former landfill at the south end of Riberia Street capped with clean soil, and an "armament system".
The armament system must be constructed to a level above the projected 100-year flood level according to the city's Chief Operations Officer, John Regan.
Trucks will rumble along Riberia Street carrying the remains of the temporary Bridge of Lions as well as clean fill.
"Using the concrete from the temporary bridge is a win-win for the city and (bridge contractor) Skanska," Regan said. "It saves them the cost of trucking it elsewhere, and saves the city the cost of finding other armament."
Regan is hoping a necessary US Army Corps of Engineers permit will be secured in April to begin the south Riberia armament system project.
After that, Regan anticipates advertising for bids in May and June and contract signing in July to begin the first phase of the Riberia Street improvement project. A start date for the long-awaited improvements is likely to be some time in October.
The first phase will extend from King Street to the area of Bridge Street.
Photo credit: © 2010 Historic City News staff photograph
Share your thoughts with our readers >>