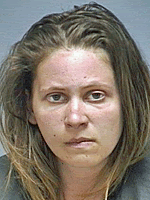 Flagler County Sheriff's Office Public Information Officer Debra Johnson reported a wide-scale Internet scheme to Historic City News after detectives and agents from the Florida Department of Law Enforcement shut down the operation which has scammed at least 50 people.
"The list is growing," Johnson said.
For the past five months, a Palm Coast woman has been preying on consumers nationally and internationally by selling them counterfeit Apple iPhones over the Internet.
Wednesday, deputies and agents executed a search warrant at the home of Mary Losito at 36 Rolling Sands Drive in Palm Coast in a joint investigation which had been named "There's something about Mary".
The 23-year-old is charged with one count of organized scheme to defraud, three counts of criminal use of personal identification and one count of money laundering. During the search, various items were also seized including cell phones, computers, financial and business documents, debit and credit cards and $3,801 in cash.
Losito had been selling counterfeit Apple iPhones since December 2009. She sold the fake phones for $350 each after purchasing the knockoff phones from a Chinese wholesaler for $30. She sold the iPhones on EBay, Craigslist and on her own website which has since been closed.
Losito's fraudulent scheme didn't stop with selling counterfeit iPhones. She would utilize the victims' personal identification to open various bank accounts, credit accounts and merchant accounts online to conceal the source of the proceeds from the fraudulent business.
The investigation revealed she had swindled $61,000 from a former neighbor between 2007 and 2009 and had opened several credit accounts, spending more than $6,000 using this individual's personal information.
"This local operation is clear evidence of how easily a consumer fraud operation can be set up and how quickly consumers can be victimized. I am pleased that we were able to shut this operation down before more innocent people were bilked out of hundreds and thousands of dollars," said Flagler County Sheriff Donald W. Fleming.
Losito was being held in the Flagler County Inmate Facility Friday. A "Nebbia" Order, signed by the Honorable Circuit Court Judge Kim Hammond, requires that a Court hearing must be held to certify that monies used to post Losito's bond are lawfully obtained.
As of Wednesday, the Sheriff's Office and FDLE have executed five search warrants in connection with Losito's activities. Three were for various email accounts and two for at her residence. The investigation is still underway and additional charges may be filed.
Share your thoughts with our readers >>