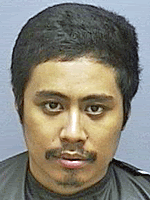 Historic City News reporters have been advised that a 25-year-old Palm Coast man has been charged with the February robbery of a Palm Coast pharmacy — and is a suspect in another pharmacy robbery in Daytona Beach.
Rommel Leuterio, of Saw Mill Court, failed to stop at a stop sign at the intersection of Pine Grove Drive and Belle Terre Parkway which resulted in deputies performing what they thought would be a routine traffic stop at about 1:30 this morning.
After the stop, the deputy requested a K-9 inspection of the vehicle. When the K-9 unit indicated the presence of drugs, deputies discovered a cannabis cigarette, a zip case containing syringes, a broken pill in a baggie and nine empty prescription bottles that had contained 100 to 500 hydrocone pills. Deputies also found a black sweatshirt with a zip-up-over-the-face in the back seat of the car.
After questioning by detectives, Leuterio was charged with the February 20th robbery of a pharmacy on Pine Cone Drive in Palm Coast. In that incident, the robber displayed a semi-automatic gun. Leuterio told detectives where the gun was and it was recovered at a Daytona Beach pawn shop.
Leuterio was being booked into the Flagler County Inmate Facility Wednesday afternoon on charges of armed robbery with a deadly weapon, possession of a controlled substance without a prescription, possession of legend drug without a prescription and possession of drug paraphernalia.
His bond was set at $58,000.
Share your thoughts with our readers >>