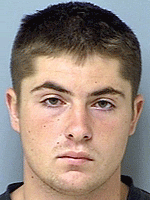 Just before 11:30 p.m. last night, 19 year-old Derek Lee Mrasak, who resides at 3895 South Francis Road in Saint Augustine, was arrested in connection with the hit-and-run accident that occurred in the wee hours of Saturday morning, according to Sergeant Michael Etheridge with the St. Augustine Police Department.
Mrasak is being held without bond, charged by police with negligent vehicular manslaughter, a first degree felony, and also charged with destroying evidence, a third degree felony.
The victim of the 3:30 a.m. traffic fatality has been identified as 33 year-old Brian Stevenot of Ormond Beach.
Other details learned in the accident reconstruction process and the results from the District 23 Medical Examiner's autopsy have not yet been released as the investigation continues.
Share your thoughts with our readers >>