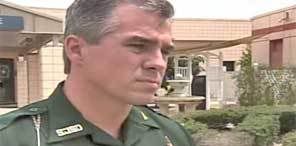 Sergeant Charles E. Mulligan informed local Historic City News reporters that investigators with the St. Johns County Sheriff's Office Special Victim's Section have arrested a 56 year-old South Carolina man on seven counts of sexual battery of a child.
The investigation in St. Johns County began in early August of this year after detectives were advised of numerous alleged incidents of sexual misconduct against the victim over a period of three years.
The incidents began outside of St. Johns County in 2007 after the man befriended the female victim who was reported to be over the age of 12 but under the age of 18.
Over the course of several years, the suspect made contact with the child victim and allegedly committed several previously unreported sexual acts against her.
56 year-old Raymond Anthony Delgado who resides at 25 Clark Summit Apartment 103, in Bluffton, South Carolina, was arrested this afternoon after he traveled to St. Johns County to again meet the juvenile girl.
Upon Delgado's arrival at the pre-determined meeting location, he was met by Special Victim's Detectives who possessed the arrest warrant for the seven counts of sexual battery that occurred in St. Johns County.
Delgado was arrested without incident and taken to the Sheriff's Office for questioning.
Delgado was subsequently booked into the St. Johns County Jail and is being held in lieu of posting a $7,000,000 appearance bond.
Due to the confidential nature of this investigation and the ongoing active status of the case, further information will be limited.
Share your thoughts with our readers >>