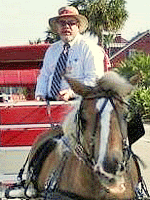 Artists, really? I'm downtown everyday and I've yet to see any artists down there. All I see is a bunch of lazy, smelly, worthless weirdo's begging for handouts. Keep going city, get rid of the trash.
Dear Editor:
I would like to answer the comments made above by someone I shall refer to as "Disgusting Blogger" (DB). First all, since the artists have been thrown off the streets by our City Commission, what (DB) is describing cannot be artists. Maybe he's confusing them with the homeless.
Artists, musicians, boaters & horses are not "lazy, smelly, worthless, weirdo's begging for handouts as (DB) charges. The artists, musicians and boaters at the "Take Back Our Old Town" rally were quite the opposite. First of all, obviously, you must be far more successful than (DB) just to own a boat. He has also confused artists and musicians with the homeless people. One of those who performed at the rally is a renowned violinist and instructor who once taught your Mayor, Joe Boles, the skills of playing a violin. That was before he exhibited his greater talents governing St. Augustine like a 3rd world socialist banana republic dictatorship, whose policies have been responsible for throwing excellent musicians, like his former violin instructor in jail. Another former street performer at the rally has performed with Crosby, Still & Nash. I wouldn't call him worthless, either.
I also contend that the horses are not:
A. "Lazy", (well maybe a few are)
B. "Smelly", (only a few times a day, but their diapers are emptied at the end of each tour, and then they aren't smelly anymore!)
C. "Worthless", (if the City Commission is successful seizing 32 licenses from St. Augustine Transfer Company, and leaving them with only ten licenses, fully knowing that they have 30 horses, 30 carriage drivers and 25 carriages, you do the math. It will result in half the horses having to be sold. Even then the horses, especially the large drafts, would have value to the meat markets in Mexico and Canada. St. Augustine Transfer Co. wouldn't do it, but those who buy the horses may secretly have a slaughterhouse in mind.)
D. "Weirdo's", I have no idea what (DB) has in mind there, but if I ever saw him, or met him, I believe I would fully understand his concept.
E. Begging for handouts. Alright, (DB) you got us there. You have proved your point. Many horses beg for handouts. I concede the 5th & final point.
In regards to the artists, and musicians, in the first year I was in St. Augustine, (2004) I would stop conducting my carriage tours when we passed musicians playing on Hypolita Street and again, later, when there was a brief reemergence of the musicians. After losing a lawsuit, the City allowed every kind of cheap vendor into St. Augustine so they could throw the musicians and artists out, once more, with the bath water. When they have been able to grace the town with their skills, every time we have passed one of these talented musicians or gazed onto the beautiful canvas of an artist, it has lifted my aesthetic spirit and that of many of my passengers.
Contrast that with Disgusting Blogger. Every time I have ever read his blog comments, I have felt like I was sorting through smelly garbage at the city dump site. Believe me, when he talks about trash, he really knows his subject!
Terry Herbert
St. Augustine, FL
Share your thoughts with our readers >>