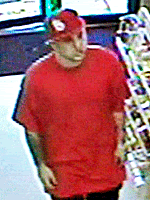 St. Augustine Police Commander Barry Fox is asking Historic City News readers for assistance in identifying a suspect involved in an Aggravated Assault that occurred yesterday evening at the T-11 Store located at 52 San Marco Avenue.
At approximately 5:30 p.m., a store employee observed a customer conceal a t-shirt from a display in the store. According to Fox, the store employee confronted the customer about the shirt. The suspect returned the shirt and left the store without incident.
The suspect returned to the store and exchanged words with the employee. During the incident, the suspect lifted his shirt; revealing a handgun in his waistband.
The suspect, who was wearing a red hat, red shirt and black shorts, fled the store and could not be located.
At approximately 9:50 p.m., the store employee was behind the counter, when five gun shots were fired through the front window.
A witness observed an individual matching the suspect's description running from the front of the store as the shots were being fired.
The suspect was observed getting into a newer model red four-door sedan as he fled the area at a high rate of speed.
If you have any information as to the identity of the pictured suspect, Fox is asking you to contact Detective Castaing at 209-3486 or contact the Anonymous Crime Tip Hotline at 209-3482.
Share your thoughts with our readers >>