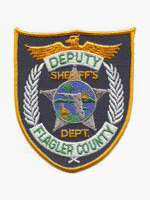 Public Information Officer Debra Johnson reported to Historic City News that three men were arrested early Sunday morning in connection with an attempted burglary of an ATM machine in "The Hammock" area in Flagler County.
Deputies reported that less than 30 minutes after burglars attempted to break into an ATM machine at the Publix Supermarket on A1A, three men matching the description of the would-be burglars were located near the Flagler Beach pier. The three were observed exiting their vehicle near the pier around 3 a.m. and heading toward the beach while removing their clothes. Deputies, assisted by Flagler Beach police officers, arrested the three without incident.
The incident leading up to the arrests began at 2:30 a.m., when deputies responded to the supermarket in response to a burglary call. A search of the area turned up burglary tools in the woods near the store. The three men arrested were discarding the clothing on the beach that matched the suspects' clothes caught on surveillance tape at the store.
Deputies arrested: Grant Morse, 45, 27 Patric Drive and Patrick Giovine, 20, 71 Price Lane, both of Palm Coast and Ethan Gaboury, 19, 233 Barker Road, East Wareham, MA. All three were charged with attempted burglary of an ATM, wearing a mask during the commission of a felony, felony criminal mischief, destruction of evidence, possession of burglary tools and obstruction by disguise.
A search warrant was obtained for Morse's and Giovine's residences where deputies said they found several items from past local burglaries.
"The investigation is far from over. We are looking to connect these three with the other local burglaries and other attempts at burglarizing local ATMs and in the surrounding areas," said Sheriff Donald W. Fleming.
All three were being held in the Flagler County Inmate Facility Tuesday. Morse's bond and Gaboury is $88,000 while Giovine's bond was set at $98,000.
Share your thoughts with our readers >>