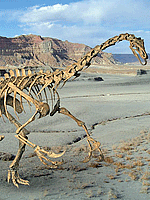 St. Johns County Audubon Society Board member Ali Fulcher invited local Historic City News readers to come to this month's meeting to enjoy Dr. Barry Albright who will take you on a trip back into The Age of Dinosaurs.
Albright, with the University of North Florida Department of Physics, said "Sometimes nature surprises us," when he unearthed Nothronychus graffami — a 13-foot tall dinosaur discovered in the deserts of southern Utah.
The skeletal remains revealed teeth suited to eating vegetation, yet they included large sickle-like claws, much like the ones donned by the famous Velociraptor.
Albright says similar species from Asia even had feathers.
This and other exciting finds have been the focus of Dr. Albright's research for the past decade.
The Audubon Society chapter meeting and presentation begin at 7:00 p.m. on September 27th at the South Ponte Vedra Civic Association Community Center.
The community center is located approximately 7.3 miles north of the Vilano Bridge and 10 miles south of Mickler Road on Coastal Highway AIA. The building, just south of the Gate gas station, is a former fire station.
Contact chapter president, Andrew Thornton: andrew.k.thornton@gmail.com. Please visit www.stjohnsaudubon.com for more information such as meetings, field trips, and regional conservation.
Share your thoughts with our readers >>