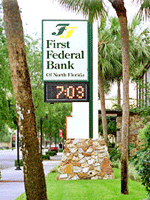 Non-performing loans are affecting some banks that operate in St. Johns County; according to recent reports obtained by St. Augustine local news reporters from the Office of Thrift Supervision and Federal Deposit Insurance Corporation.
Distressed loans lower a bank's capital level — one of the critical thresholds monitored by financial institution regulators.
Five banks with branches in our area, including the First Bank of Jacksonville, First Federal Bank of North Florida, Haven Trust Bank Florida, Oceanside Bank and Putnam State Bank, were at, or below, the threshold regulators recognize as "adequate capital" in the fourth quarter.
Lower capital levels at insured banks open the door for further scrutiny by regulators and reduce the banks' ability to make loans.
On Monday, the Office of Thrift Supervision told First Federal Bank of North Florida that they were "critically undercapitalized"; ordering the 88 year-old institution to merge or be acquired by another bank within 20 days.
First Federal traces its history back to 1922 when a local group of civic minded business and professional men founded Palatka Building and Loan Association.
This week, the Palatka based savings bank with two offices in St. Augustine, was slapped with an order called a "prompt corrective action directive" by its regulator. At the end of the year, First Federal Bank of North Florida had a total risk-based capital ratio of negative 1.34 percent; far below the regulatory requirement of at least 10 percent in order to be considered "well-capitalized."
The order states that in December, the bank submitted a capital restoration plan to its regulator but it was denied by the Office of Thrift Supervision on February 16th.
First Federal Bank of North Florida was stopped from doing certain activities including making any capital distributions; management fees or executive compensation and bonuses; purchasing or renewing brokered deposits; as well as expanding into a new branch or line of business without approval from the Office of Thrift Supervision.
Congress created the Federal Deposit Insurance Corporation in 1933 to restore public confidence in the nation's banking system. The FDIC insures deposits at the nation's 8,099 banks and savings associations and it promotes the safety and soundness of these institutions by identifying, monitoring and addressing risks to which they are exposed. The FDIC receives no federal tax dollars – insured financial institutions fund its operations.
Share your thoughts with our readers >>