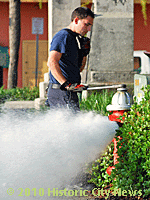 Local Historic City News reporters spoke with St. Augustine firefighter Brandon Seymour this morning as he systematically checked fire hydrants around the Plaza de la Constitution as part of their routine inspection program.
By opening the hydrants periodically, firefighters can measure the water pressure and flow by bleeding the lines before a fire emergency is at hand.
Fire personnel conduct and maintain the records of the regular testing of the City's water supply system for firefighting purposes. All 454 fire hydrants are annually flow tested and examined for needed routine maintenance to assure proper operation.
During April, the city experienced a number of waterline breaks; including Lincolnville, San Marco Avenue uptown and along Cathedral Place downtown, resulting in "boil water" notices as the lines were repaired.
Through the combined efforts of the City's Fire and Utility Departments, St. Augustine's Insurance Rating Service rating was reduced from a Class 4 to a Class 3 — with a Class 1 being the best rating attainable.
Photo credits: © 2010 Historic City News staff photographer
Share your thoughts with our readers >>