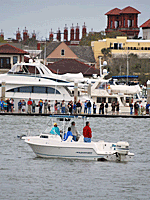 St. Augustine Yacht Club Commodore Barbara Dolan reported to Historic City News local reporters that the annual Blessing of the Fleet is part of our rich maritime heritage in St. Augustine.
The weather held up for crowds of onlookers from every viewing area; many lining the south bayfront, many more on the docks at the Municipal Marina and dozens perched on the walkways of the newly reopened Bridge of Lions to witness a ceremony celebrated in St. Augustine since 1946.
This event is permitted and regulated by the U.S. Coast Guard. Marine safety measures were apparent — including marine officers in boats in the staging area, giving escort to participating vessels of all sizes and along the parade route; in the Matanzas River south of the Bridge of Lions.
When St. Augustine's harbor was filled with fleets of commercial trawlers, the festive blessing tradition began in the hopes of a bountiful shrimp season for those who went to sea.
Today the tradition continues as those who fish, both commercially and for sport, seek blessings on their vessels for an abundant catch. And, all those who take to the waterways, seek safety upon the water and a safe return home.
The ceremony began at noon with a procession from the Cathedral Basilica to the St. Augustine Municipal Marina including celebrant clergy, members of the Knights of Columbus and the St. Augustine Easter Festival Royal Family with their entourage.
Very Reverend Thomas S. Willis, Pastor of the Cathedral-Basilica of St. Augustine, offered the traditional blessing from the docks of the St. Augustine City Marina to all who passed before him.
"May the peace and blessing of the Almighty God the Father, the Son and the Holy Spirit descend upon these ships and upon all who shall be in them and remain forever," Willis prayed.
The event draws thousands of spectators to St. Augustine each year on Palm Sunday, according to St. Augustine, Ponte Vedra, & The Beaches Visitors and Convention Bureau.
Photo credit: © 2010 Historic City News photographer Kerry McGuire
Share your thoughts with our readers >>