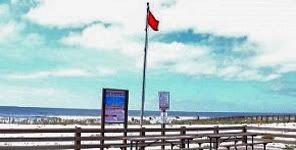 At about 7:30 a.m. this morning, St. Johns County Fire Rescue Public Information Officer Jeremy Robshaw reports to Historic City News that a body washed ashore on the beach approximately 600 yards north of the St. Augustine Beach Pier.
Tropical storm activity in the Atlantic has generated rough seas, heavy wave activity and stronger than normal rip currents.
Authorities have been searching for the lost swimmer, 68 year-old Donald L. Wilson, who went missing in the surf close to Butler Beach about 4:30 p.m. Tuesday. Wilson was swimming with his 10 year-old grandson who is a student at Hartley Elementary School.
"At this time no positive identification has been made," Robshaw told Historic City News this morning.
Officers with St. Augustine Police Department and the St. Johns County Sheriff's Office are currently handling the incident. The District 7 Medical Examiner will make the determination as to the cause and manner of death in an autopsy examination.
In an in-person interview with Sheriff's Office Public Information Officer Sgt. Chuck Mulligan, Historic City News has learned that the body recovered was that of a black male. "I have remained in communication with Mr. Wilson's family since his disappearance on Tuesday and, although it appears that we have recovered his body, until the autopsy is complete, we can not be certain."
"No foul play is expected, no other black men in the area have been reported missing and there have been no other swimming incidents reported that would explain a body washing ashore this morning," Mulligan said.
Share your thoughts with our readers >>