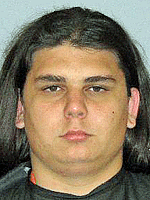 Updating a Historic City News story from last night, more details in the arrest of a 20 year-old Daytona Beach man on charges of making a destructive device after deputies say he detonated a bomb in a rural area of Palm Coast.
Patrick Taylor Cossette, 900 South Peninsula Drive, is also charged with unlawful possession of a concealed handcuff key, possession of burglary tools, tampering with evidence, making a false report to law enforcement and trespassing.
While on routine patrol in the Seminole Woods section of Palm Coast, Deputy Robert Blanton stopped to investigate two vehicles that were parked near the entrance of Seminole Woods Boulevard, near the area of Dry Lake in Flagler County.
The deputy initiated a foot patrol on a dirt road leading into Dry Lake where he discovered fresh footprints. As he approached a clearing, he observed four people standing on some hill mounds and then he heard an explosion.
Additional deputies responded to the scene and seven homemade explosives were retrieved from the clearing.
During questioning, Cossette initially denied responsibility for the explosion and the devices which led to the false report charge.
While patting him down, deputies found Cossette in possession of a lock picking device and a handcuff key. He was taken into custody and charged.
Agents from the Department of Alcohol, Tobacco and Firearms served a search warrant this morning on Cossette's Daytona Beach home where other homemade explosive devices were located. He is facing additional charges.
The three other individuals were issued notices to appear in court for trespassing.
Share your thoughts with our readers >>