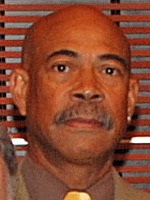 Historic City News reporters listened to more sermonizing from current County Commissioner Joseph "Ken" Bryan; this time directed at the City of St. Augustine, its commissioners and staff — apparently responding to citizen complaints regarding neglect at the Willie Galimore Center by the St. Johns County Parks and Recreation department.
In 1987, an interlocal agreement between the city and the county turned management of the city-owned Galimore Center over to St. Johns County. The agreement was renegotiated eight years ago and provides for automatic renewal. The agreement in place today will not be up for renewal until July, 2011.
St. Johns County officials are saying that when the current interlocal agreement expires, they are out of it.
From the dais, Bryan described comments made at last week's city commission meeting by Vice-Mayor Errol Jones as "an outburst" and nothing more than "grandstanding" and "fingerpointing" by the City instead of offering solutions for the Galimore Center.
City Commissioner Leanna Freeman added, "The city is not in the recreation business, the county is."
Bryan, who was in attendance at the City Commission meeting on October 11th, rose to the podium after listening to complaints from residents who clicked through a lengthy complaint list pointing out the sub-standard conditions at the Center and pool — which has been closed since it failed a Health Department inspection in 2009.
Jones pointed out that the County has contractual obligations to the City to operate the 20 year-old pool, the Willie Galimore Center and surrounding Eddie Vickers Recreational Facility.
At that meeting, Bryan responded by saying, "Contracts have escape clauses."
Freeman said, "We are taxed for it. It is their responsibility."
County Commissioner Phil Mays yielded the majority of his "commissioner comments" time to Bryan so that Bryan could complete his prepared homily that attacked the city on unrelated management and budgeting issues.
In his own inimitable style, Bryan included in his remarks a threat to the City; "I will personally be getting with the County Administrator and asking him to revisit all interlocal agreements to determine how we can become even more fiscally conservative" indicating that the County will opt-out of any other such agreements with municipalities that have been a burden.
City Manager John Regan spoke to Historic City News yesterday after Bryan's speech. Regan concluded that this is just one of those issues where people are passionate, and, notwithstanding Commissioner Bryan's remarks, the City won't be hindered in its continuing efforts to repair and return to service the Willie Galimore Center.
Regan and Director of General Services Jim Piggott held a community workshop two weeks ago at the Galimore Center. A number of ideas for renovating the pool and surrounding Eddie Vickers Recreational Facility were discussed — some depending on private funding and donations.
Share your thoughts with our readers >>