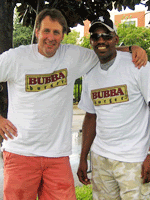 Jacksonville based Bubba Foods, LLC, has entered into an agreement to purchase the Armour- Eckrich production plant in Hastings, Nebraska according to a report received by Historic City News today.
Bubba Foods produces and sells the BUBBA burger, the number one selling branded burger in the nation, according to the announcement. The BUBBA burger is a premium frozen burger made from 100% USDA Choice Chucks.
Bubba Foods presently owns and operates a production facility located in Elberton, Georgia which is undergoing a planned $7,700,000 expansion to double the size of the plant.
At full production Bubba Foods estimates that more than 200 jobs will be created at the Hastings plant generating a payroll in excess of $7,000,000. The location of the plant in Hastings, NE will allow Bubba Foods more immediate access to raw material in the region. Bubba Foods' corporate policy is to purchase packaging and plant materials with the assistance of local suppliers. The purchase of the Hastings plant is scheduled to close at the beginning of this month with renovations scheduled to be completed and the plant operational by the middle of the summer.
"The BUBBA burger continues to experience tremendous growth in demand as the number one selling frozen burger in the US," said President and CEO Billy Morris. "The acquisition of the plant in Hastings, NE will allow us to meet the strong demand for the BUBBA burger in the Midwest and West coast of our nation."
Chief Operating Officer Steve Coon stated, "We are excited about the opportunity to continue to expand our production capacity with the addition of the Hastings plant," and "it is a well positioned location for production of the BUBBA burger with its proximity to raw material suppliers and a great pool of employees with a high level of meat processing experience."
Share your thoughts with our readers >>