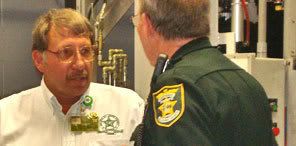 Media Relations Officer Kevin Kelshaw alerted local Historic City News reporters that two suspects are being sought for entering an occupied home early this morning and firing a shotgun.
Deputies responded to a report of a burglary at a residence in the 100 block of Smith Street in the area of CR-214 shortly after 5:00 a.m.
The 55 year-old victim stated that two men walked into his home and one of them fired a shotgun — striking the wall near his ceiling.
Outside, a 42 year-old woman told deputies that she was riding her bicycle in the area when she heard screaming coming from the house. As she approached, she observed two men wearing masks and armed with guns. The witness stated that the two men ran into the woods south of the residence.
Deputies searched the area and did not locate any subjects.
A motive for the shooting is unknown as the investigation continues. There were no injuries reported.
Share your thoughts with our readers >>