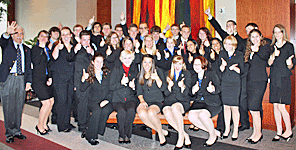 The Flagler College Students In Free Enterprise team reported to Historic City News local reporters that they won their regional competition on March 29th in Charlotte, N.C.
Six individual topic awards were given, and Flagler SIFE won the Entrepreneurship Award with its business ethics video created for the Winmark Corporation.
"We are in the process of trying to build a business based on the training videos we have created so far," Flagler SIFE President Jessica Welch said.
"This has been an incredible year for Flagler SIFE," Welch said. "I'm incredibly proud of the whole team; members both new and returning really came together this year to create and implement projects that would help a diverse group of people both within and outside of our St. Augustine community."
The team will head to Minneapolis in May to compete for the national title. Flagler SIFE is no stranger to the contest. The group won the national title in 2004 and 2009 and came in second in the world in 2005. They have won 10 out of the last 11 regional competitions.
SIFE is an international nonprofit organization active on more than 1,500 university campuses in 40 countries. SIFE teams create economic opportunities in their communities by organizing outreach projects that focus on market economics, entrepreneurship, personal financial skills and business ethics. SIFE teaches students the positive power of business through service learning.
Share your thoughts with our readers >>