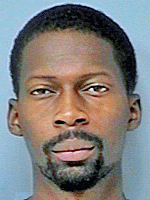 Friday afternoon, police tell local Historic City News reporters that Corporal Tim Bryan observed a silver Dodge Neon swerve across the double yellow line in the center of the road in the area of King Street and M.L. King Boulevard.
Bryan checked the tag and discovered that the license plate was registered to another vehicle.
Corporal Bryan, aided by St. Johns County Deputy and K-9 handler Farrah Faucett, stopped the vehicle and identified the driver as 24 year-old Tremayne Justin Whitty who resides at 65 Julia Street in St. Augustine.
When Faucett approached the vehicle, she said that she smelled a strong odor of marijuana. Whitty gave consent to search his vehicle for drugs.
Corporal Bryan discovered a substance that field tested positive for cocaine. It was located on the floorboard of the driver's seat. Whitty was taken into custody and charged with possession of cocaine; then was released Saturday on $5,000 bond.
Share your thoughts with our readers >>