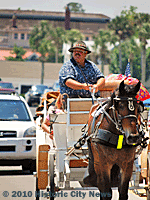 Assistant City Attorney Carlos Mendoza told Historic City News local reporters and city commissioners in a Monday afternoon workshop that there is one horse carriage permit holder who he has learned "leases out that permit for $8,000 a year".
""It's the black-market selling of permits outside the control of the city that is the most oppressive and illogical part of this system," said Michael Gold — Historic City News editor and a candidate for the City Commission. "Why did carriage drivers object to paying the city $5,000 for a license — when they were already paying a private individual $8,000?"
At issue is the current rate of $80 per year to the city for a carriage permit. Some of the permits are used by the one, major permit holder — however, many of the permits are leased to individuals, outside of City control, who are actually the ones who operate the carriage tours. "If the $3,800 a year in permit fees at $80 each covered the city's expenses, we wouldn't be here," Mendoza said.
Commissioners heard testimony from city staff on road damage, auditing, and a urine odor-canceling enzyme as Mendoza built his case. He's documented some $25,000 in annual expenses.
Under consideration are $1,000 permit fees and possibly franchise fees based on a percentage of gross sales, as is currently done with sightseeing trains and trolleys.
Mendoza was asked to present a horse carriage ordinance in November with provisions for adjustment by resolution, meaning changes such as routes and rates could be made without the lengthier process of amending the ordinance.
The current proposal being advanced by Mendoza would authorize a total of 25 permits, limit a single business to control no more than ten permits, and would prohibit permit transfers.
"Not one person up here has said we want to do away with the carriage industry," Mayor Joe Boles said. "But we want to be able to assure our taxpayers it's not costing them money."
Share your thoughts with our readers >>